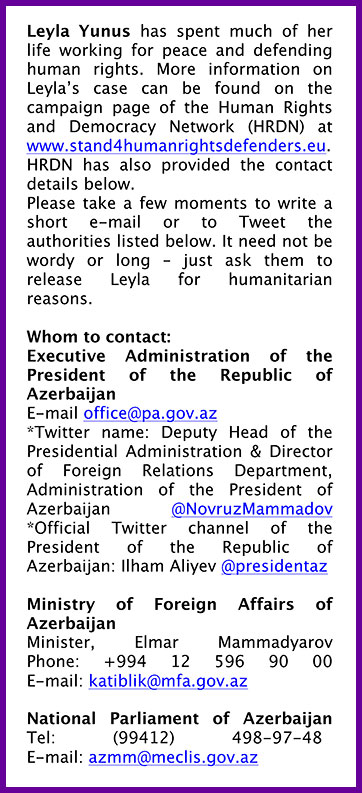 by Alexandra Bosbeer and Gordon Matthews
[2 Dec. 2015] A couple of days ago we learned that Leyla Yunus, a veteran human rights activist imprisoned in Azerbaijan, is in very poor health. Leyla was arrested on 30 July 2014. She is one of several activists named with concern in a report of the Parliamentary Assembly of the Council of Europe, activists who seem to be targeted for criminal prosecution because they express opinions critical of their government. After spending a year in pre-trial detention, Leyla was convicted on 13 August this year of treason against the state, large-scale fraud, forgery, tax evasion, and illegal entrepreneurship. Her husband, Arif Yunus, was convicted of treason and fraud, but he was transferred on 12 November to house arrest. Leyla needs to be released urgently so that she can access proper health care. Please write to the Administration of the President of Azerbaijan (see box for details) and ask for Leyla Yunus to be released on humanitarian grounds.
Leyla Yunus is only one of a multitude of human rights defenders throughout the world who are suffering persecution. We hesitate to single her out, because there are no doubt many others who are equally in need of our support. (Azerbaijan has a number of cases in the European Court of Human Rights.) But can you imagine what it must be like for Leyla, suffering with diabetes, hepatitis C, and gastro-intestinal problems, being locked up without proper access to health care?
On 23 June this year the Parliamentary Assembly of the Council of Europe debated the poor situation in Azerbaijan as regards democracy and human rights. Azerbaijan is a member state of the Council of Europe and, as such, should be upholding the European Convention on Human Rights, among other Council of Europe conventions. The European parliamentarians agreed Resolution 2062 "The functioning of democratic institutions in Azerbaijan", which draws attention to excessive powers granted to the president and the executive; a lack of parliamentary control of the executive; and a judiciary which is not sufficiently independent. The resolution mentions in particular the harassment of journalists, lawyers, and other human rights activists:
The Assembly is alarmed by reports by human rights defenders and international NGOs, confirmed by the Council of Europe Commissioner for Human Rights, concerning the increase in criminal prosecutions against NGO leaders, journalists, lawyers and others who express critical opinions, based on alleged charges in relation to their work, especially human rights lawyer Intigam Aliyev; Anar Mammadli, the head of an election monitoring group; veteran activist Leyla Yunus and her husband Arif Yunus; Rasul Jafarov, founder of the "Sports for Rights" campaign; and journalists Khadija Ismayilova and Rauf Mirgadirov. The Assembly calls on the authorities to end the systemic harassment of those who are critical of the government and to release those wrongfully detained.
We (the authors) have been reflecting on the tendency of human societies and communities – and many of us as individuals – to think that the world is divided into good and bad people and that all one needs to do to combat the ills of society is to identify and eliminate the bad people: "terrorists", "agitators", "revolutionaries", "fascists", "tyrants", "dictators", "warmongers", "troublemakers" …
We humans seem to like to think in black and white. We feel more secure when we know whether someone is good or bad, a friend or an enemy. One of our greatest fears is that we ourselves may be judged as being bad. Because of this, we resist pressure to change: making a change is usually interpreted as an admission that we have done wrong in the past.
Aleksandr Solzhenitsyn summed it all up in Gulag Archipelago:
If only there were evil people somewhere insidiously committing evil deeds, and it were necessary only to separate them from the rest of us and destroy them. But the line dividing good and evil cuts through the heart of every human being.
Leyla Yunus is not a perfect saint, any more than anyone else. Neither is the president of Azerbaijan a devil. Many international organisations have judged the detention of Leyla Yusuf and her husband Arif as politically motivated. The pan-European Parliamentary Assembly of the Council of Europe has called for release of Leyla and others as wrongfully detained. Whether or not one agrees with these evaluations, we are asking the Azerbaijani government to release Leyla on purely humanitarian grounds. They do not have to admit that she was wrongly imprisoned in the first place.
We understand from those who know her, that Leyla has done much important and courageous work to help build peace and protect human rights in her country. But human rights are not granted according to a person's contribution to the welfare of society. Human rights are universal and inalienable. We are all worthy of respect.
Leyla Yunus is seriously ill; she is in prison; and her health is deteriorating. Please write to request her release.
[Update 2017: You can check the case history of Leyla Yunus's case at Front Line Defenders https://www.frontlinedefenders.org/en/case/case-history-leyla-yunus
They have been living in The Netherlands but are still under threat from authorities in Azerbaijan. For example, in May 2017 an Azerbaijani court ordered their forced return from The Netherlands.]